Welcome to The Natural Pet Pantry Kitchen ………"Our Range"
Here at Plush Pawz, we are delighted to be able to bring you the highest quality of frozen meat for your dog.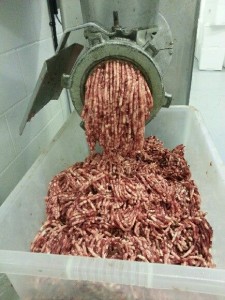 The Natural Pet Pantry's range of raw foods are produced using only 100% human grade ingredients. Their poultry, meat and game are naturally fed and steroid free without added hormones.  Some of their range incorporates organic produce, organic minerals and unrefined vitamins to fulfil a complete and balanced diet or they have plain minces containing fresh ground bone for added for calcium supplementation.  This combination of ingredients offers optimum levels of amino acids, essential fatty acids, natural-occurring enzymes, and necessary vitamins and minerals.
Their range has been formulated by a Canine Nutritionist who has worked in the pet food industry for many years and want their products to be the best they can be for their customers.
All products have full traceability and this is why The Natural Pet Pantry and Plush Pawz love them so much
British Beef
The Beef used either comes from Aberdeen Angus or Traditional Hereford beef which can be traced back to the original population, having been pure bred for many generations. All the beef used is raised in the English Countryside.
Water Buffalo 
The Buffalo are reared in large straw bedded yards, or grassy paddocks.  The young buffalo are fed on a completely natural diet of hay, straw, a blend of GM free cereals or grass from clover rich pastures.  No meat, bone or fish meals are fed to the buffaloes.  Every attention is paid to the animal's welfare; from baby calves to the day they leave the farm.  No growth promoting hormones are used, nor antibiotics administered to any animal bearing the quality assured seal of the farm . Free from the worries of BSE, antibiotic residue.
British Pork and Wild Boar
Wild Boar is the original pig.  Boar produce leaner meat and has a richer taste.  The Pork used is Middle White which are very rare and produce meat.  All pork and boar produce have been reared on British Countryside farms living as close to a natural environment as possible.
Lamb
The breed of Lamb used is Hebrideans.  They produce a small carcass which grows at half the speed of the Lleyn which makes it more expensive to produce however, this is the best tasting organic lamb.  This ancient breed of sheep originates from Outer Hebrides, Scotland.
Chicken and Turkey 
All of the Chicken range are from UK farm assured farms.  They are all fully traceable back through the free range farms to the farmers name.  The Turkeys are from Linconshire and all from the highest quality meat.  They vary in weight and the products are fresh, not stored for long periods of time.
Duck
The duck products come from English Gressingham duck.  Just like the chicken all the ducks are from farm assured farms and 100% top quality meat.
Organic Cold Pressed Extra Virgin Coconut Oil
Coconut oil is comprised mainly of medium chain fatty acids (MCFAs), or medium chain triglycerides (MCTs).  Coconut oil also contains lauric acid, a saturated fatty acid that converts in the body to monolaurin with numerous beneficial properties, including anti-viral, anti-bacterial, anti-microbial, anti-fungal,
Coconut oil is excellent for Gastrointestinal Health, Healthy Immune System, Metabolic function, and Bone health.
Coconut has proven benefits:
Helps with skin conditions such as eczema, flea allergies, contact dermatitis, and itchy skin
Improves overall coat condition, thickness, texture and growth
Regulate and balance insulin and thyroid levels
Help with arthritis or ligament problems
Deodorizes and eliminates odours
Kelp
Seahorse Atlantic Kelp is used as this seaweed species is grown in the purest of the Atlantic Ocean.  All the species of kelp never become exposed to the external environment as it remains below the water throughout its growth phase, this ensures high nutrient availability and reduction of any external factors effecting growth or quality. Kelp is an excellent  source of Vitamin K, Calcium, Copper, Iron, Magnesium and Manganese, Vitamin C, Pantothenic Acid, Zinc and Riboflavin. Kelp is a great source of dietary fibre.
Organic Fruit and Vegetable
All the fruit and vegetable used come from farm assured organic farms.
Organic for a reason:
The Organic farmers used maintain the long term fertility of their soil by helping worms, insects and other organisms to flourish. They add nitrogen naturally by growing clover and spreading organic composted manure and seaweed on their fields. Rotatation of the types of crops and animals in a field each year helps to keep the soil fertile and to prevent the build up of weeds, pests and diseases which can occur if the same crop is planted in the same field each year
By avoiding the use of synthetic fertilisers, pesticides and herbicides, the organic farmers reduce pollution in the soil, waterways and the food chain. The Organic farmers encourage natural predators to help control pests rather than using chemicals. No genetically modified (GM) crops or animal feed are permitted.