Become a Sponsor
Sponsoring the Plush Pawz Dog Show is a great way to promote your business and you will also be making a valued contribution to the success of the Show.  As our sponsorship rates are affordable, sponsoring our show continues to be fantastic value and a great way to promote your business.  An ideal opportunity for small businesses and start-ups.
This years show is being held on Sunday 20th September 2015 at the Springbok Estate, Alfold.  This year we will again be raising money for the local charity – Care Ashore (Reg Charity 207500), whose facilities we use.
Each year we aim to make the day bigger and better, so are inviting local businesses to be a part of our day by sponsoring a class or two and helping a local charity to raise funds!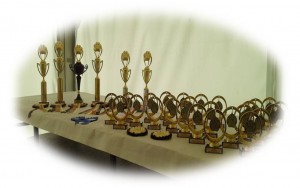 There are 26 classes in total; 10 Pedigree, 3 Handling and 13 Novelty
We are looking for the following sponsorship:
1. Class – £15 per class (plus donation of a prize of your choice for the winner)
2. Best in Show – £25
3. Reserve Best in Show – £25
4. Best Puppy in Show –  £25
5. Best Novelty in Show – £25
6. Reserve Best Novelty in Show – £25
7. Best Overall Handler – £25
We would also love to have a sponsor for the overall show again this year, if interested please contact Lesley on 0845 548 7299 to discuss.
As a thank you, your business will be acknowledged in the programme and we will put a link on our website to yours.  The winner of each sponsored class will receive a trophy which is engraved with your company name.  Sponsorship of an award from 2-7 will receive an engraved cup with your company name.
In addition to flyers being distributed in a wide area and some banners being put up in key places, we are also going to be advertising in the two national dog papers; Dog World and Our Dogs, together with various social media.
For further information or a sponsorship form, please contact us on 0845 548 7299 or email: enquiries@plushpawz.co.uk
We look forward to hearing from you.