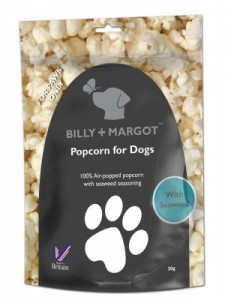 Popcorn for dogs – seasoned with seaweed
Not all popcorn is the same so it is important to understand the difference. The majority of 'human' popcorn found on the market is popped in oil and is often seasoned with butter, salt or sugar. Therefore it would not make a good treat for your dog.
Billy + Margot Popcorn is air popped making it a healthier alternative which is lower in fat and calories. It also has a longer shelf-life.
Popcorn contains fibre, is 100% wholegrain and also gluten free.
Plain popped corn makes a healthy treat with only 74 kcals per pouch of 20g !
Billy + Margot seasoning
As always they use only the best in their product, so chose SeaHorse Atlantic seaweed to season their popcorn. This kelp is grown in the wild waters off the south west coast of Ireland free from pollutants. It is rich in a variety of minerals, vitamins and trace nutrients.
Ingredients
Maize (corn), Seaweed
Product details
Suitable for vegetarian dogs
Do not feed to puppies under the age of 14 weeks
Feed responsibly as part of a balanced diet. Give as a treat or reward
Fresh drinking water should always be available for your dog
Warning: May contain the occasional un-popped kernel
Storage instructions
Store in a cool dry place. After opening, please reseal
and use within 7 days
[add_to_cart id="1763″ sku=""]