Dog Grooming
Free consultation, advice and a wide variety of dog grooming services to choose from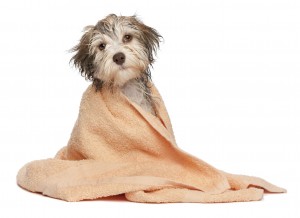 Because regular dog grooming is such an important part of your dog's overall welfare, we offer you a comprehensive range of different dog grooming services and a free consultation with one of our dog groomers to ensure you choose the best services for your dog.
Have a look at our different grooming services and hand pick the best one for your dog's needs:
De-matting
Hand stripping
Nail clipping
Eye and mouth trims
Clipping and scissor trim
Canine teeth cleaning
Dog microchipping
Puppy package
Benefits of good dog grooming
It's important to remember that bathing your dog is about more than just keeping his coat clean and well groomed.  It includes a massage which helps stimulate your dog's skin and also helps with blood circulation, relieves tired muscles and has lots of benefits for older dogs and dogs with arthritis.
Calm and relaxed dog grooming studio and facilities
It's essential that your dog should enjoy his Plush Pawz experience and we've created a calm and comfortable environment where your dog can relax.  We'll treat your dog as if he is our own and always ensure each appointment has plenty of time to go at his pace.
For dog's with restricted mobility our grooming studio has been specially designed so that your dog doesn't need to jump anywhere and at Plush Pawz we promise that we dry all our dogs by hand and never use drying cabinets.
"My dog Purdy doesn't enjoy grooming and has a thick, double coat. Lesley handled her brilliantly, Purdy looks great and I will definitely be back soon." Lucy Benner
Medical Issues
If your pet has any medical issues please let us know so we can take this into consideration when they visit us. We are happy to use medicated shampoos or apply any products your vet has prescribed.
For pets where sedation may be needed, we are happy to work with your vet
Call us today for your free consultation
You'll find us in Alfold on the Surrey / Sussex border in our purpose built grooming studio and we're open 6 days a week Monday to Saturday.
We believe your dog deserves the best so call us today on 07947 366841 to discuss how we can help with your dog's grooming, health, fitness and well being or email us at woof@plushpawz.co.uk
Plush Pawz – what your dog deserves