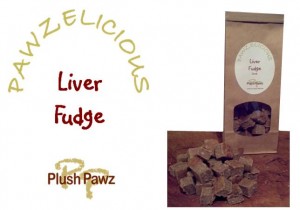 The 'Original' Liver Fudge handmade by Pawz-A-Licious at Plush Pawz, since 2006 !
Pawz-A_Licious Liver Fudge is a nutritious, tasty treat like no other, with unique and special ingredients used in no other brand of fudge for dogs.
Ours is the 'Original' Liver Fudge and sets a high bench mark which we doubt others can match, so make sure you don't settle for second best!
Due to the success of our liver fudge, it is now available in a variety of flavours using only the best ingredients
We guarantee your dog will ♥ it and it is a perfect reward for training
Keep refrigerated. Suitable for freezing. Should be used on the day of defrosting. Do not refreeze once defrosted.
Ingredients:
Lambs Liver
100% Organic Wholemeal Flour
This product is also available to buy by the slab for you to cut as desired
[add_to_cart id="1774″ sku=""]