Plush Pawz Opening Times
We are open Monday to Saturday and due to demand, we now offer grooming appointments between 8.30am – 6pm. (Please note: Saturdays until 1pm)
We may also be able to accommodate appointments outside of these hours by prior arrangement. Please call us with your requirements and we'll do our very best to help.
On days where we don't have early or late appointments, we may open a little later or slip of home a littler earlier. So if you'd like to visit, please give us a quick call to make sure we're open.
Your dog grooming appointment
At Plush Pawz we do everything we can to try and groom your dog at the most convenient time to you.  It's important that you leave plenty of time for your dog's groom so that he / she feels calm and relaxed and can get the most benefit from the treatment.  We guarantee that there will be no more than 2 dogs in our grooming salon at any time to ensure your dog doesn't get either over excited or stressed.
The average time for a full groom is 2 – 2 1/2 hours but please bear in mind that some dog grooming treatments such as de-matting and hand stripping can take up to 3 hours.
Treadmill appointments
All treadmill appointments are for 1/2 hour, although your dog will not be on the treadmill for all this time.  We always offer a free initial consultation where we discuss a suitable exercise programme for your dog.
For the safety of your dog, we require your vet to complete our Veterinary Form, which we need at least 24 hours before your appointment.
Don't forget you can phone or visit us to speak to our dog groomers for a free consultation about the best grooming services for your dog. We can also microchip your dog, advise on nutrition, diet and dog exercise.
Call us on 07947 366841 or sign up to our newsletter for free seasonal grooming advice and tips.
Click here to download our brochure.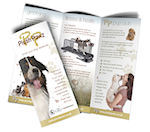 Plush Pawz – what your dog deserves