We know that with dog grooming one size most certainly doesn't fit all, so we have carefully worked out an extensive guide to ensure a tailor-made service that is priced both competitively and fairly. To see how we calculate the needs of your dog, click here to view our dog grooming guide.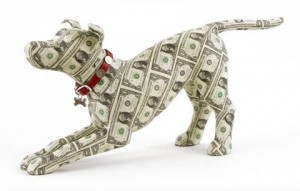 Please note: the prices shown are for guideline only and a confirmed price will be given on sight of your dog. If your dog is matted to a degree we feel that de-matting will distress or make your dog uncomfortable, we will discuss alternative options with you.
Our Full Groom prices include:
7-point Health Check
Pre-bath preparation – brush through, nail trim, ear clean/pluck, groin, bottom
Warm aromatic bath with double shampoo to suit your dogs needs and mini-massage
Conditioner and/or detangler, as necessary
Blueberry facial
Blow dried by hand
Scissor, clip or hand-strip as per your requirements
Coat conditioning spray to finish
We may feel one of our additional treatments would benefit your dog, for example dry/flaky skin. Any additional treatment we use during your dogs grooming appointment is at no extra charge to you.
Fleas
If we find fleas on your dog, we will give them an immediate flea bath. For this we use our completely natural anti-bacterial/anti-fungal/parasite shampoos and an additional charge of £5 will be made. If you do not wish your dog to have a flea bath, please advise us during the consultation. However, if you decline a flea bath for your dog, for the wellbeing of our other clients we will require you to collect your dog immediately.
If your dog is not listed, please do not hesitate to contact us on 0845 548 7299 or email enquiries@plushpawz.co.uk for a price guide